Pull Up Your Pants
April 11, 2020

Accordions are only acceptable under one circumstance: if "Weird" Al Yankovic is playing one. Other than that, no way. Especially if you are wearing your formal attire and your pants are so long they look like an accordion bunched up on the top of your shoe. For some reason, pant length is oftentimes difficult to come to an agreement on when guys try on their formal attire. Having the appropriate length on your pants can be the difference between being a Sharp Dressed Man and looking frumpy and disheveled.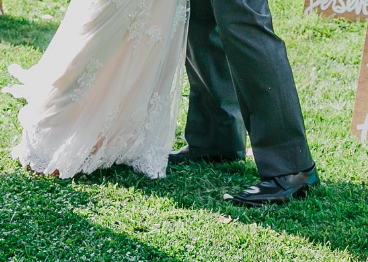 A nice, crisp break at the top of the shoe is one of the more important details of your formal attire look. Heck, the trend now for the younger crowd is to have pants short enough to show your ankles!
There are a few factors that can help solve the pant length puzzle, however. First, are the pants where they should be on your waist? Realistically, few people go old school and wear formal pants above the belly button, but they should be hitched up high enough to bring the crotch up so it doesn't fall parallel to your knees. Many times simply hitching your pants up solves two problems, bringing the crotch up and bringing the length to an acceptable level. The key then is keeping the pants at this spot on the waist. Our rental pants all feature adjustable waists that can be tightened, or we offer suspenders which will ensure they stay put. Remember, we can always adjust the length of your pants as well, typically a short process that is done while you wait.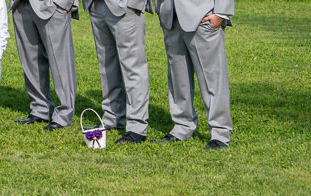 Now there are a couple of results from wearing pants at the appropriate length that puts some guys out of their comfort zone. First, when taking a step you may actually see *GASP* your socks! Again, this is normal with dress attire. You can choose to wear socks to coordinate with your shoes, your pants or choose to wear funky socks…that's why funky socks exist, to show them off! Another result is that when you sit down your pants may rise up a bit more than you are used to when wearing your jeans. This is a tough one for some guys to accept, but then we have them stand up to view the length. The key is always how you will look standing up. Most wedding ceremonies and pictures are done standing up, so you want to look your best!

So when you come in to try on your formal attire and are asked to "Pull up your pants", it's for your own good. We don't want you to look back at your wedding photos and see yourself as frumpy.